Showing 21-23 of 23 results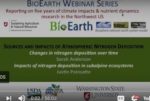 BioEarth Webinar Series
A series of four free webinars with Washington State University researchers affiliated with the BioEarth research initiative sharing findings related to climate change impacts on Northwest U.S. water resources, nutrient cycling, and managed and natural ecosystems.


Understanding Cost of Production
Determining on-farm costs of production is a significant task. Diggin' Roots Farm was able to develop the systems and infrastructure to facilitate data collection and integrate this work into everyday tasks.
Croptime
This project developed an online crop management tool that allows vegetable growers in Oregon to time farming and marketing activities using degree-days.