Showing 21-23 of 23 results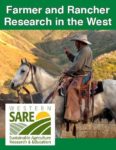 Farmer and Rancher Research in the West
Making changes on the farm or ranch involves taking risks. One or two years spent experimenting can lead to a financial hit too difficult to recover from. That's where Western SARE's Farmer/Rancher and Professional + Producer grants help out. Grantees, like the ones highlighted in this report, come up with the possible solution to a problem they face on their farm or ranch, propose a way to research the idea, and then Western SARE provides the critical support needed to experiment.The projects explore sustainable solutions to problems through on-farm research, demonstration, and education. It is expected that the results are shared with other producers. The highlights you'll read here are just a fraction of the creative projects attempting to solve real-world problems the grants programs have funded.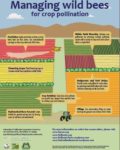 Managing for Wild Bees
Pollination is a critical component of the crop production cycle, directly contributing to reproductive success for pollinator-dependent crops. Graduate student Hillary Sardinas evaluated the ability of hedgerow restorations to augment hybrid sunflower pollination by the native bee community. She also investigated whether rates of nesting were increased in fields adjacent to hedgerows, as well as whether the presence of hedgerows enhanced the diversity and abundance of the native bee community at different distances into fields.
Organic Fertilizer and Cover Crop Calculator
This free online tool compares the nutrient value and cost of cover crops, organic and synthetic fertilizers and compost. Use this Excel Calculator to develop well balanced and cost effective nutrient management programs for your farm.