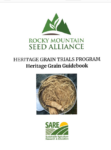 Heritage Grain Guidebook
From 2016 through 2021, Rocky Mountain Seed Alliance (RMSA) worked with a grassroots network of nearly 200 grain growers in varying climates, initially across the Western United States and eventually growing nationally and globally, in trialing over 250 varieties of ancient and heritage grains including Indigenous and alternative (pseudo) grains to determine varieties that can thrive in the changing climate conditions of the 21st century. Through this effort, 20 of the most adaptive and resilient varieties of cereal grains, including wheat, barley, and rye, of which there was enough seed stock, were selected for formal replicated research trials at four locations in the Mountain West. Results of both the participatory grassroots trials and the research trials, including grower and grain profiles, are documented in this manual in an effort to inform and inspire others to grow these unique varieties of grains, and to support regionalized grain networks and localized food systems.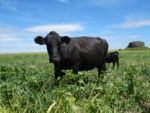 Can Cover-cropping and Grazing Work with Dryland Grain Farming?
Farmers know that planting one crop year after year is asking for trouble. It depletes the soil and leads to increased insect, weed and disease pressures. But in certain places, it's also been the major agricultural system for decades. In north-central Washington, along the Canadian border, dryland wheat production has been the dominate production system […]

Fresh Growth Podcast
Fresh Growth: Approaches to a More Sustainable Future from Western Ag Practitioners introduces you to farmers and ranchers from around the western United States who are finding innovative sustainable practices that enrich the natural resources we all care about. These successful multi-generational operations experiment with new ideas and are making it pay. Listen in as […]