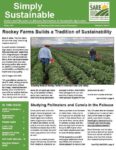 Winter 2019 Simply Sustainable
In this Issue:
Regenerative Ag
Pollinators and Canola
Cover Crop Resources
Pioneer Award
and more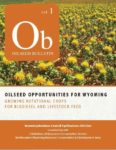 Oilseed Opportunities
Farmers and ranchers in the West are growing some new crops and improving their diversity. Many of these changes are being brought about by rising energy and crop prices and the need to become more self-sufficient. Oilseeds such as canola, sunflower and safflower are part of this change and are being grown successfully as agriculture seeks a local and low cost source of fuel and livestock feed. This bulletin is intended as a guide to producers who are considering growing oilseeds.