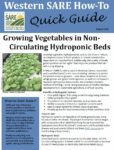 Growing Vegetables in Non-Circulating Hydroponic Beds
Growing vegetables hydroponically, such as bok choy or lettuce, can improve access to fresh produce in remote communities dependent on imported food. Additionally, the quality of locally grown produce can be higher than imported produce that can wilt during shipping. Download PDF
Photosynthesis & Hydroponics Lesson & Demonstration
Mt. Lata Farm in America Samoa created a Teachers' Resource Tool Kit with lesson plans on growing vegetables using hydroponics. This is one sample. For more information, contact the Project Leader .
Responses to COVID-19 in Western Ag
Agriculture in the Western Region has been greatly impacted by COVID-19 and its resulting Shelter in Place orders, labor and processing challenges, and strongly shifting consumer behaviors and markets. It has also become clear that our agricultural community has been responding quickly and creatively. Western SARE cares about our community and feels a responsibility to share ideas and strategies. Toward that end, we conducted a survey of our state coordinators and project leaders of grants funded in the past three years. The data and examples are listed below. We will also create a report from this information, along with ideas provided on how Western SARE itself should adapt to the crisis.