The educational materials listed on this page are about Integrated Crop and Livestock Systems.
Crops and livestock were traditionally  integrated in most farming systems. Integrated crop and livestock farming can improve nutrient cycling. Integrated management, or integrated farming, can also reduce off-farm impacts and improve water management. Integrated crop livestock systems also interrupt pest cycles on farms. Reduced economic risk through diversification on integrated crop-livestock systems is an added benefit to the integrated production system. Resources on integrated farm systems can be recycled more efficiently. Integrated crop and livestock operations may also benefit from increased efficiency in yields. The advantages to integrated agriculture are numerous for both the land and the farmer. Key practices include crop rotation, nutrient management, nutrient cycling, forage management, multispecies grazing, pasture fertility, physical control, stocking rate.
SARE's Crop Rotation on Organic Farms: A Planning Manual can help farmers identify strategies that will help improve soil quality and health, and manage pests, diseases and weeds. A Whole-Farm Approach to Managing Pests is a helpful bulletin that serves as a guide in designing a farm-wide approach to controlling pests. Visiting The Small Ruminant Toolbox will aid producers looking to diversify their operation by incorporating small livestock enterprises, which provide added benefits to crop rotation and pest and weed control.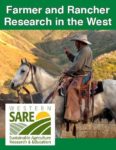 Farmer and Rancher Research in the West
Making changes on the farm or ranch involves taking risks. One or two years spent experimenting can lead to a financial hit too difficult to recover from. That's where Western SARE's Farmer/Rancher and Professional + Producer grants help out. Grantees, like the ones highlighted in this report, come up with the possible solution to a problem they face on their farm or ranch, propose a way to research the idea, and then Western SARE provides the critical support needed to experiment.The projects explore sustainable solutions to problems through on-farm research, demonstration, and education. It is expected that the results are shared with other producers. The highlights you'll read here are just a fraction of the creative projects attempting to solve real-world problems the grants programs have funded.