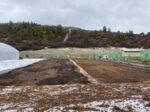 Farmers Test Whether Cardboard Can Keep Bindweed at Bay
Bindweed can be the bane of farmers' existence. The climbing vine spreads easily by seed and rigorous root system, choking off crops and other plants along the way. "Even when we till in the spring, we spend a huge amount of time hand weeding throughout the season to manage bindweed," explained Jonah Sloven, who grows […]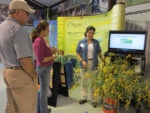 A Sunn Hemp Cover Crop for Soil Health and Nematode Management
These University of Hawaii fact sheets and virtual field day explain how to use sunn hemp as a cover crop to control weeds, nematodes and other pests, add soil nutrients, prevent erosion, and contribute to a more robust and complex community of beneficial nematodes. Available fact sheets include:


How Well Does Biodegradable Plastic Mulch Degrade in Compost and Soil?
Biodegradable plastic mulches are now commercially available, and they are designed so that they can be tilled directly into the soil to degrade. Their adoption could alleviate the disposal problem of polyethylene mulch, but there is the need to evaluate how well they degrade under different environmental conditions.