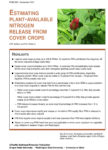 Estimating Plant-Available Nitrogen Release from Cover Crops
This Oregon State University fact sheet explains the basics of plant-available nitrogen (PAN); when to kill cover crops for the maximum PAN benefit; step-by-step instructions on how to perform site-specific measurements to predict PAN from your cover crop; and case studies from the Willamette Valley.
Organic Fertilizer and Cover Crop Calculator
This free online tool compares the nutrient value and cost of cover crops, organic and synthetic fertilizers and compost. Use this Excel Calculator to develop well balanced and cost effective nutrient management programs for your farm.