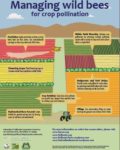 Managing for Wild Bees
Pollination is a critical component of the crop production cycle, directly contributing to reproductive success for pollinator-dependent crops. Graduate student Hillary Sardinas evaluated the ability of hedgerow restorations to augment hybrid sunflower pollination by the native bee community. She also investigated whether rates of nesting were increased in fields adjacent to hedgerows, as well as whether the presence of hedgerows enhanced the diversity and abundance of the native bee community at different distances into fields.

Living on the Land
One of the most comprehensive and adaptable curricula in the country for training natural resource professionals to, in turn, teach small-acreage landowners how to care for their soil, air and water while maximizing the land's value.