Open - Closes November 1, 2023
The Western SARE Research to Grassroots grant program is intended to address the barrier(s) to application/adoption of sustainable agriculture practices as identified in previous SARE research by clearly demonstrating to agriculture professionals and/or producers the environmental, social, and economic viability of the previous research and the benefits and challenges that selected previous work may present.
How the Program Works
The Research to Grassroots (RGR) grant program is built on the SARE concept that results of applied research are used to train agricultural professionals and farmers/ranchers in the latest practices of sustainable agriculture. Successful proposals must incorporate the research results from SARE-funded research projects and bring those results into the field through education for ag professionals and producers, emphasizing the strengths and barriers to adoption of the selected previous work, ultimately helping to increase producer confidence in adopting sustainable agriculture practices.
Funding for Research to Grassroots grants are based upon the idea that these grants will "complete the circle" of research by providing feedback loops between producers, educators, and scientists.
Project approaches can include, but are not limited to the following:
Trainings
Focus Groups
Curricula or Materials Development
Demonstrations
Web-based Courses
Tours
Digital Media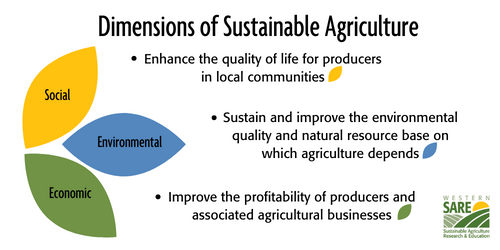 Successful projects incorporate the environmental, economic, and social dimensions of sustainable agriculture. Projects can be up to 3 years (36 months) in length and funded up to $100,000.
Timeline
Proposals Due: November 1
Review Panel Meets: December/January
Award Decisions: February/March
Project Funds Available: April
Next CFP: Spring 2024
Contact Us
(307) 575-2416