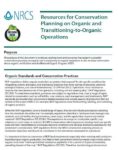 Resources for Conservation Planning on Organic and Transitioning-to-Organic Operations
This document discusses existing tools and resources that support successful conservation planning on organic and transitioning to organic operations.
Organic Fertilizer and Cover Crop Calculator
This free online tool compares the nutrient value and cost of cover crops, organic and synthetic fertilizers and compost. Use this Excel Calculator to develop well balanced and cost effective nutrient management programs for your farm.